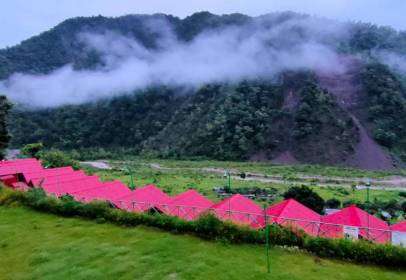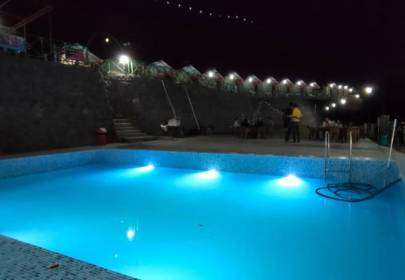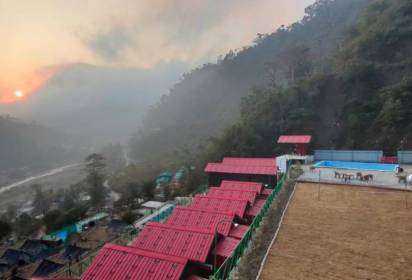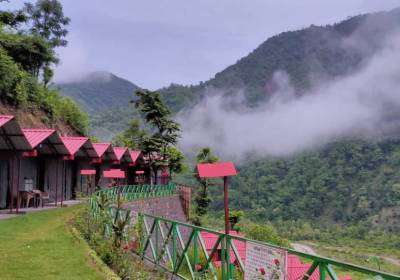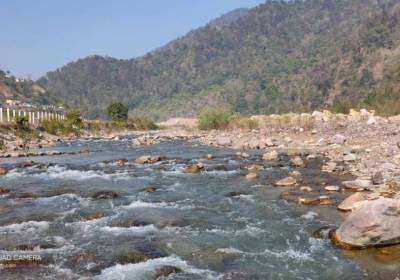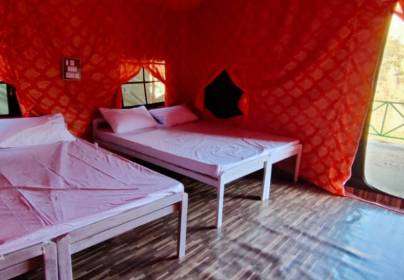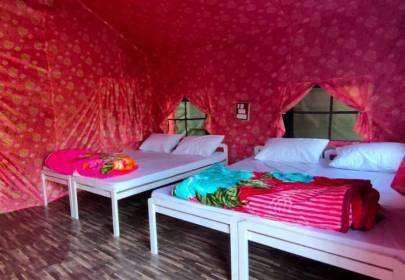 Jungle Camping in Rishikesh
Camp Type: Luxury Jungle Camp | RC

13

Washroom: Attached (Western)
River: Ganga River at 2 Km from Camp
View: Mountains & Valley
Walking Distance from Road: 50 mts.
Music & Bonfire @ Night
Swimming Pool in Camp
Parking Adjacent to Camp (Roadside)
Small River (Huel) Near to Camp
Check-In: 11 AM | Check-Out: 10 AM
About Jungle Camp in Rishikesh
Jungle camp in Rishikesh is designed to give you luxurious comforts while keeping in mind the intimacy one wants with nature through camping. The basic amenities at the jungle campsite include a charging point, air cooler, pillows, mattresses, etc. And the view from your swiss camp is bound to leave you breathless. Whether you're camping alone, with friends, your other half, or even as a family, jungle camping in Rishikesh is suitable for people of all ages. This jungle campsite is located in the village Shivpuri and offers plenty of comforts. While camping in jungle camps at Rishikesh you can go trekking and explore the unspoiled beauty of Rishikesh villages.

If you're looking for a great camping site in Rishikesh for your next camping trip, with views and plenty of opportunities to explore, Rishikesh jungle campsite is the answer.
Rishikesh Jungle Camping Includes
1 Night Stay in Jungle camp Rishikesh
3 Time meals (Lunch, Dinner & Breakfast)
Night Music & Bonfire
Evening Snacks
Sports @ Campsite like volleyball, badminton, cricket, etc.
Mountain trekking or hiking
Jungle Camping Package in Rishikesh
1 Night Camping Cost Per Person
Cost Sunday to Friday
| Sharing | Camping without Rafting | Camping + 16Km Rafting |
| --- | --- | --- |
| Double | - | - |
| Triple | - | - |
Saturday Prices
| Sharing | Camping without Rafting | Camping + 16Km Rafting |
| --- | --- | --- |
| Double | Rs 1600 | Rs 2200 |
| Triple | Rs 1500 | Rs 2100 |
| Quad | Rs 1400 | Rs 2000 |
All above prices are final & non negotiable.
River Rafting Charges
| | | | |
| --- | --- | --- | --- |
| 10 Km | Marine Drive | Shivpuri | ₹ 500 |
| 16 Km | Shivpuri | Nim Beach | ₹ 600 |
| 26 Km | Marine Drive | Nim Beach | ₹ 1000 |
| 36 Km | Kaudiyala | Nim Beach | ₹ 3000 |
---
Kid Below 5 Year: Complimentary
Kid 5 to 12 Year: 50% Charge
Kid Above 12 Year: 100% Charge
Minimum Age for Rafting: 14 Yrs
Id Proof is Required to verify the Age & Address. It may be asked during check-in at the campsite.
Cost does not include any kind of transportation.
Send Query To Campsite
How To Book Rishikesh Jungle Camp?
Simply call or WhatsApp us @ 9368884155
Provide the details - total no of people, date of travel, and any specific query.
You'll receive a quotation for your query depending upon the activities you choose.
To reserve the camp for your dates you have to confirm your booking by submitting an advance amount.
After submitting an advance amount you'll receive a booking confirmation message in your WhatsApp or email address.
The advance amount will be 30% of the total package cost. (Which you'll get in quotation message) (Advance amount may higher on weekends or holidays)
Important Note: Before making the payment, you are agreeing to our Regular Terms & Conditions and Booking Cancellation terms. Please check the links below and read all details.
Activity Terms & Conditions
Booking Cancellation Terms
Online Reviews of Jungle Camps Rishikesh
"Ultimate Camping Experience" - The staff was so kind and the service by them is just super. A good place to visit with family. The campsite is located in the jungle location and there is a small river stream near to the campsite.
Shivani From: Mumbai ⭐⭐⭐⭐⭐
"Jungle Camping Rishikesh" - If you are a nature lover, you will definitely like this experience. Clean and fresh air surrounding. The staff was very polite and the food was also nice.
Rajesh From: Delhi ⭐⭐⭐⭐⭐
"Memorable Camping Night" - Excellent ambiance at night with lots of colorful lights around, DJ, bonfire. Enjoyed Snacks, the food was simple but tasty. The hospitality was really good.
Pooja From: Dehradun ⭐⭐⭐⭐⭐