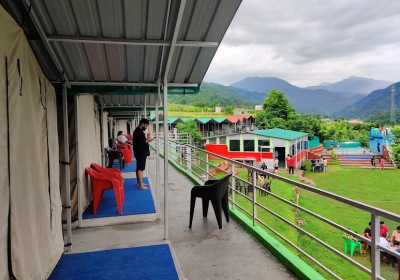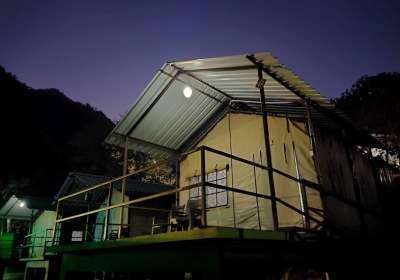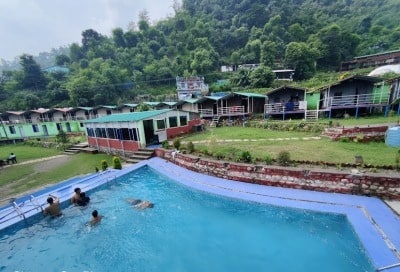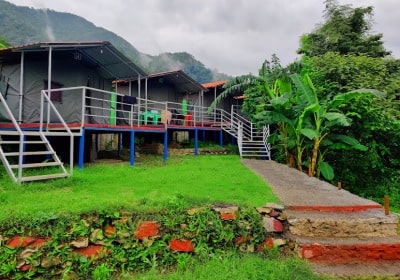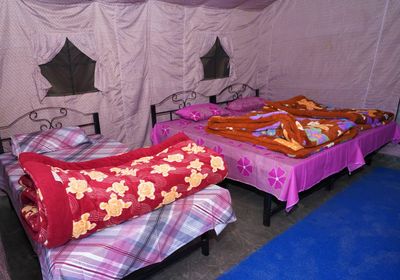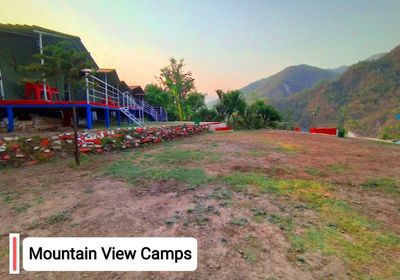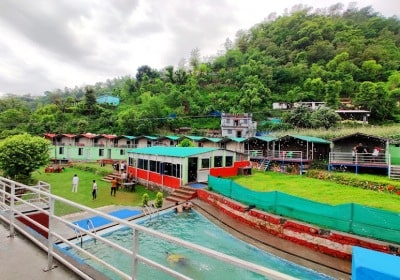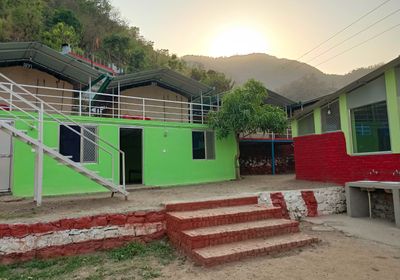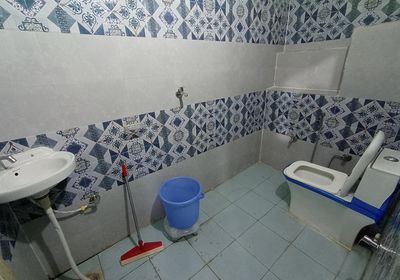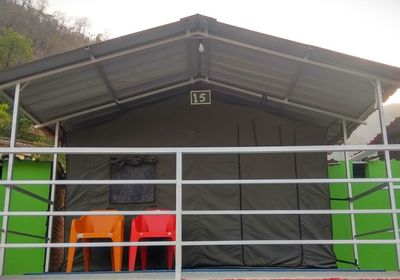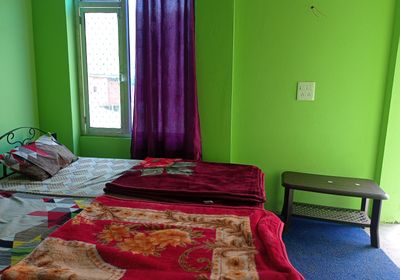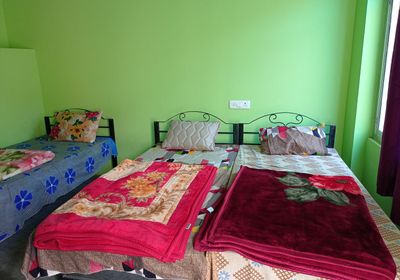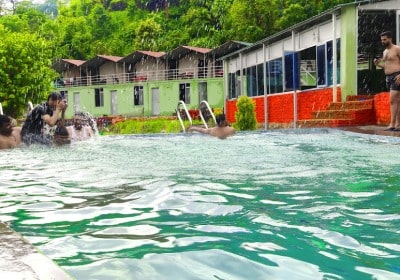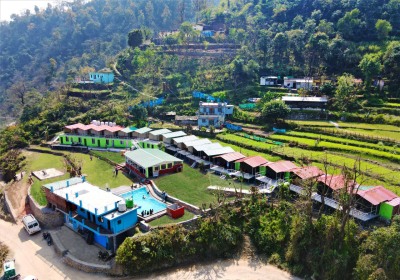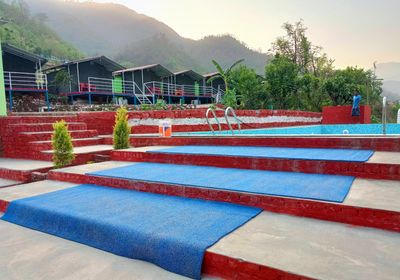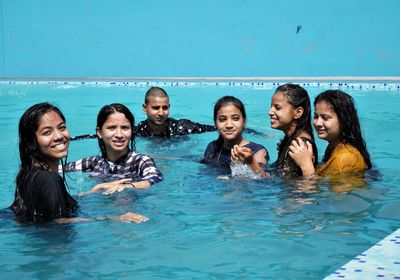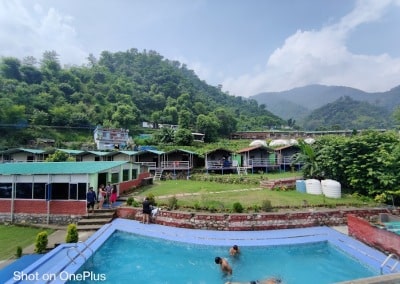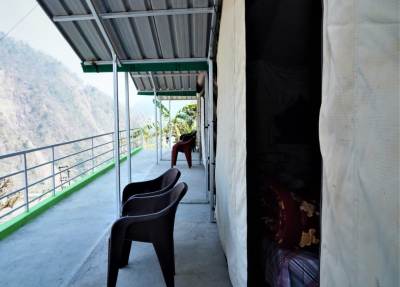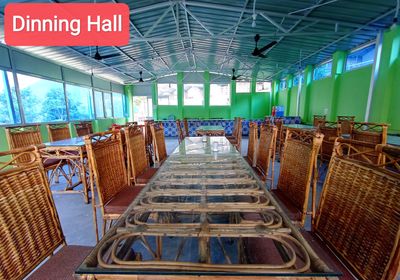 Mountain View Camps in Rishikesh
Camp Type: Luxury Camp | RC

01

Washroom: Attached (Western)
Camps: 26 Units (18 Camps & 8 Rooms)
Parking: Free Parking at Campsite
Swimming Pool, Parking, Badminton, etc
Air-Coolers with 24hrs Power Backup.
Mesmerizing Mountain & Valley View
Check-In: 11 AM | Check-Out: 10 AM
About Campsite
Camps have an attached washroom (western)
Lights, air-coolers, & charging plug inside the camp
Swimming pool @ common area
There are two categories of accommodation - Camp & Room. (Both have the same amenities)
The campsite is just 10 meters uphill walk from Road
Parking is available adjacent to the campsite. (Free)
Distance from the highway - Approx 1 Km (On single-lane village road)
Power backup available
Ganga River & Sand Beach @ 1.5 Kms approx. (10 minutes drive)
Adventure Park (25+ Paid Activities) at 1 KM approx
A small market is 1.5 Kms far from the campsite.
Camping Inclusion
1 Night Stay in luxury Camps
Day01: Buffet Lunch (01-02 PM) (Rice, Dal, Chapati, Mix/Seasonal Veg, Raita, Pickels, Salad)
Day01: Buffet Dinner (09-10 PM) (Chicken Curry, Mattar Paneer, Dal, Rice, Chapati, Salad)
Day02: Buffet Breakfast (08-09 AM) (Bread Butter/Jam, Aalo Paratha/or/Aalo Puri, Egg Bhuji, and Tea)
Evening Veg Snacks & 1 time morning-Evening Tea
Free Access to Swimming Pool (08 Am to 09 PM)
Light Music till 10:00 PM
Bonfire in Evening (In winters only - November to February) (Also subjected to weather conditions)
Packages for Mountain View Camps in Rishikesh
1 Night Camping Cost Per Person
| Sharing | Triple/Quad | Double |
| --- | --- | --- |
| Sun to Fri | Rs 1300 | Rs 1400 |
| Saturday | Rs 1600 | Rs 1900 |
NOTE: Charges may vary on long weekends & holidays.
To Know The Best Discounted Rates For Your Travel Date Contact Us on WhatsApp
River Rafting Charges
| | | | |
| --- | --- | --- | --- |
| 10 Km | Marine Drive | Shivpuri | ₹ 620 |
| 16 Km | Shivpuri | Nim Beach | ₹ 1020 |
| 26 Km | Marine Drive | Nim Beach | ₹ 1520 |
| 36 Km | Kaudiyala | Nim Beach | ₹ 3000 |
Kid Below 5 Year: Complimentary
Kid 5 to 10 Year: 50% Charge
Kid Above 10 Year: 100% Charge
Minimum Age for Rafting: 15 Yrs
Id Proof is Required to verify the Age & Address. It may be asked during check-in at the campsite.
Cost does not include any kind of transportation.
Distance between Camp & Rafting Office - 1.5 Kms approx
Send Query To Campsite
How to Book this Campsite?
Simply call or WhatsApp us @ 8393928065
Provide the details - total no of people, date of travel, and any specific query.
You'll receive a quotation for your query depending upon the activities you choose.
To reserve the camp for your dates you have to confirm your booking by submitting an advance amount.
After submitting an advance amount you'll receive a booking confirmation message on your WhatsApp or email address.
The advance amount will be 30-40% of the total package cost. (Which you'll get in the quotation message) (Advance amount may be higher on weekends or holidays)
Important Note: Before making the payment, you are agreeing to our Regular Terms & Conditions and Booking Cancellation terms. Please check the links below and read all details.
Activity Terms & Conditions
Booking Cancellation Terms
Customer Reviews About Mountain View Camp
"Value for Money" - Must say that the stay was cozy and comfortable. Great place with good service and good view. Excellent booking experience and a great place to be for a quick weekend getaway.
Mr. Deepak From : Haryana ⭐⭐⭐⭐⭐
"Beautifull Moutain Views" - Beautiful campsite and nice management, ensuring that customers are updated at all times about booking and other logistics. Good for couples and family
Mr. Kunal From : Rishikesh ⭐⭐⭐⭐⭐
"Nice Experience" The staff & manager are always smiling and providing everything u demand with a smile. The washroom was clean & hygienic. Would suggest everyone to book this campsite.
Mr. Ajay From : Pune ⭐⭐⭐⭐⭐