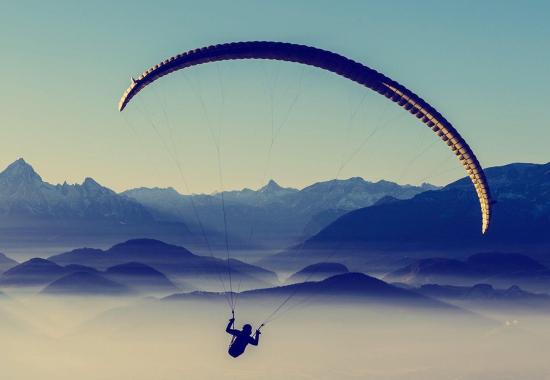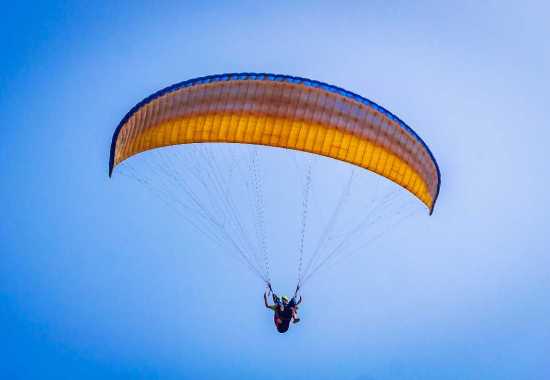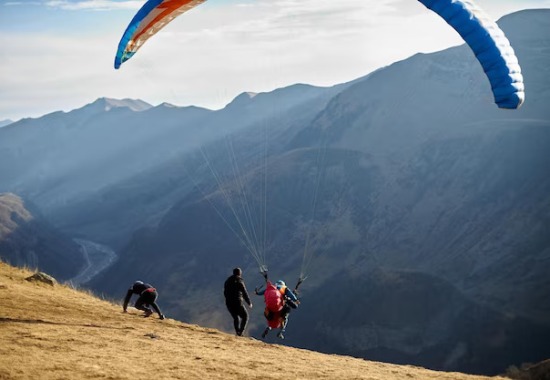 Paragliding in Dehradun
Discover the thrill of Paragliding in Dehradun, a mesmerizing experience that combines adventure and awe-inspiring landscapes. Glide through the skies, overlooking lush valleys and the Himalayan foothills. With skilled instructors ensuring safety, this paragliding adventure promises an unforgettable journey amidst nature's beauty.
Rs 4500-19000/person Rating: 4.8⭐
Dehradun Paragliding Highlights
Duration: 10-20 Minutes
Location: Near Maldevta Intercollege, Dehradun
Weight: Min - 35kg, Max - 85 kg
Age: 14 yr (minimum)
Operational Timings: 10:00 am - 4:30 Pm
Flying Height: 4000-6000 feet
Cost: Rs 3500 to 4500 Per Person
Distance from Important Places: 45 km away from Rishikesh, 20 km from ISBT Dehradun, 5 km from Rispana Bridge.
View All 20+ Adventure Sports in Rishikesh 👇 View All Activities
Price of Paragliding in Dehradun:
| Option | Price | Duration |
| --- | --- | --- |
| Short paragliding fly | Rs 3500 | 5-10 min |
| Long paragliding fly | Rs 4500 | 10-15 min |
It offers two packages with various time duration at different prices. Flying time sometimes varies due to low wind currents.
Paragliding in Dehradun Details:
Select from three paragliding packages based on flight duration.
Meet certified pilots at the location for a safety briefing.
Learn about paragliding dos and don'ts before the flight.
Receive flight-specific instructions at the takeoff site.
Securely fitted with a harness and helmet for safety.
Pilot ensures your comfort and safety before takeoff.
Attach to your pilot after safety checks for the experience.
After landing, a motorbike provided by the operator returns you to the starting point.
What to Wear
You can wear the clothes you find comfortable during outdoor sports. Although, it is advised to wear a body fit trouser, T-shirt and shoes for a perfect paragliding experience.
How to Reach
The paragliding activity is operated in Maldevta, Dehradun. You should reach Dehradun first, and then hire a local cab till Maldevta which is just 15 km from Rispana Bridge.
Videography
Videography is not included with paragliding charges. You can avail the video recordings of your flight by paying an additional charge of Rs 500 per person.
Best Time for Paragliding in Dehradun
The months from October to June are considered the best to enjoy paragliding in Dehradun. As the weather is pleasant during these months and wind currents are suitable for paragliding.
Options for Stay in Rishikesh
Send Query for Booking
How to Book Paragliding in Rishikesh?
Booking a paragliding activity with Rishikesh Camp is easy. You can WhatsApp us and choose the date and time that suits you best. Alternatively, you can also contact our customer support team via phone call, and they will assist you with the booking process.
Simply call or WhatsApp us @ 8393928065 provide the details - total no of people, date of travel, and Time Slot.
To reserve the slots for your dates you have to pay the booking amount.
After completing the payment, you'll receive a booking confirmation message in your WhatsApp or email address.
The booking amount for this activity will be 100% of the total package cost. (Which you'll get in quotation message) (Advance amount may higher on weekends or holidays)
Please Note: We are not the operator of Dehradun Paragliding, we're just a booking partner who manages bookings. You can ask for activity operator details from the team. If required.
Also, Guest should know, that paragliding is a risky adventure sport and there are risks involved in that. And being just a booking partner we don't have any controls in on-ground operations. Therefore we are not liable for any mishappening during the activity.