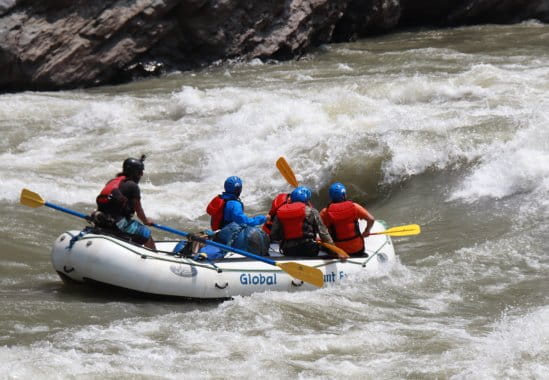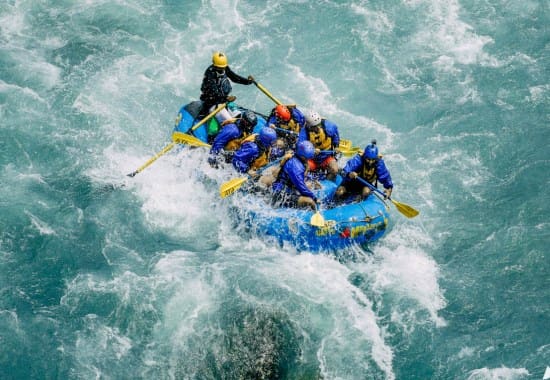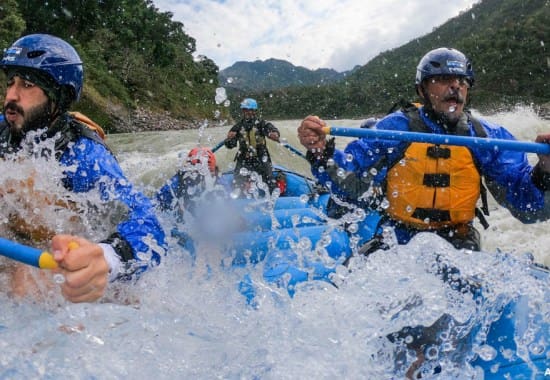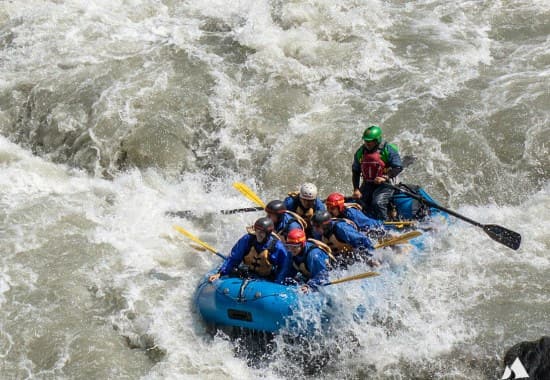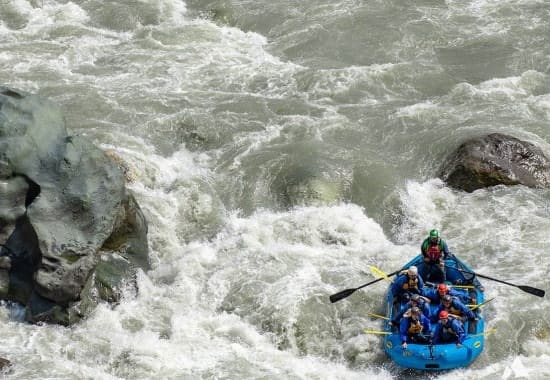 Ganga River Rafting Expedition in Rishikesh
A rafting expedition is an adventurous river journey on inflatable rafts. In Ganga River Rafting in Rishikesh, navigate rapids, paddle as a team, guided by experts for safety and thrill, making it an exciting water activity amidst stunning landscapes. Embark on an exhilarating river expedition in Rishikesh, India's adventure hub. Expert instructors guide you throughout the tri, from strokes to water navigation. Whether you're a novice or seeking to refine your techniques, Rishikesh's river rafting expedition promises an unforgettable aquatic journey.
Rs 10,000 to 25.000/person Rating: 4.9⭐
Expedition Itinerary
Day 01 : Rishikesh - Devprayag - Beasghat
Embark on an early journey from Rishikesh to Devprayag, a 65-kilometer drive in 2-3 hours. Begin your river adventure at the confluence of Bhagirathi and Alaknanda rivers, where the Ganges comes alive. Navigate a 16-kilometer stretch to reach the tranquil Beas Ghat, a serene beachside campsite.
Day 02 : Beas Ghat to Kaudiyala
After breakfast, break camp at Beas Ghat and raft another 14 kilometers to reach Kaudiyala. Experience an overnight stay on the white sand beach, surrounded by nature's charm.
Day 03 : Kaudiyala to Shivpuri
Morning camp departure, followed by a 14-kilometer kayaking adventure to Shivpuri. Conclude your river journey here and return to Rishikesh. Estimated arrival in Rishikesh around 2 PM.
Note: This itnerary can be customised as per requirement and budget.
Expedition Includes
Experienced team having appropriate training and certifications for whitewater rescue and wilderness first aid.
All Safety Gears: PFDs, helmets, paddles, splash jackets, safety kayaks, dry bags etc.
Suitable camping gear including tents, sleeping bags, and cooking/mess arrangements.
River permits, Forest/National parks entry fees/permits, inner line permits, all necessary legal paperwork & documentation.
Travel arrangements connecting the starting and ending locations as detailed in the itinerary.Camp stay on twin share basis with all meals.
Cost Excludes
Train/Air fares up to and from the starting and ending points.
Meals and refreshments during the road journey.
Any kid of Insurance
Expenses of personal nature, alcoholic drinks etc.
Charges for video/ still cameras etc.
Anything not mentioned explicitly in the schedule/program.
Send Query for Kayaking
How to Book Rafting Expedition in Rishikesh?
Booking a rafting expedition with Rishikesh Camp is easy. You can WhatsApp us and choose the date and time that suits you best. Alternatively, you can also contact our customer support team via phone call, and they will assist you with the booking process.
Simply call or WhatsApp us @ 8393928065 provide the details - total no of people, date of travel, and Time Slot.
To reserve the bungee slots for your dates you have to confirm your booking by submitting an advance amount.
After submitting an advance amount you'll receive a booking confirmation message in your WhatsApp or email address.
The advance amount will be 30% to 40% of the total package cost. (Which you'll get in quotation message) (Advance amount may higher on weekends or holidays)
Rafting Expedition Reviews
Unforgettable adventure! The rafting expedition in Rishikesh was a dream come true. The rapids were thrilling, and the scenic beauty was breathtaking. The guides ensured safety while making the experience fun. A must-do for adventure seekers!
Mrs. Sapna From : Delhi ⭐⭐⭐⭐⭐
Rishikesh rafting exceeded expectations! The expedition was a perfect blend of excitement and natural beauty. The guides were knowledgeable and made us feel secure. The rapids provided an adrenaline rush like no other. An incredible journey!
Mr. Ravindram From: UK ⭐⭐⭐⭐⭐
Thrilling journey down the Ganges! The rafting expedition was a mix of adventure and tranquility. The guides were skilled and friendly, sharing interesting insights about the river. The rapids were heart-pounding, and the landscape was mesmerizing. Highly recommended
Mr. Praveen From : Uttarakhand ⭐⭐⭐⭐⭐