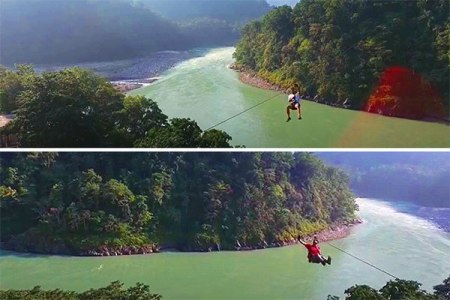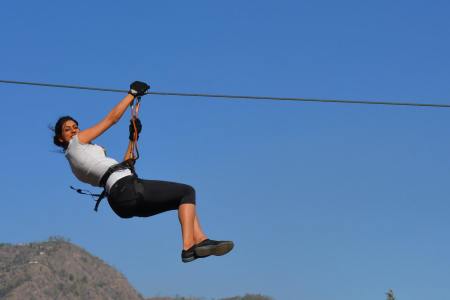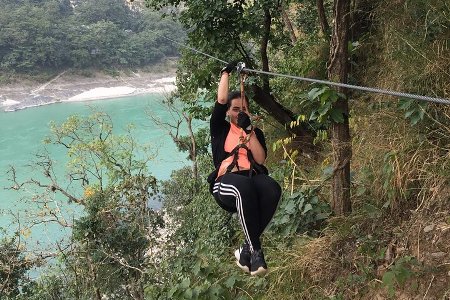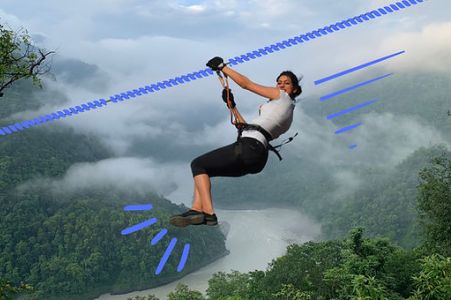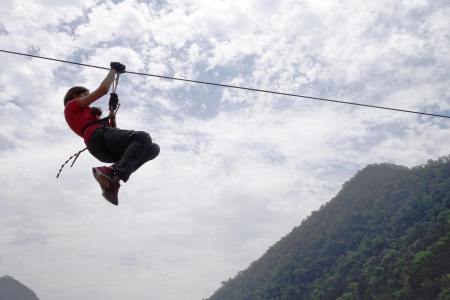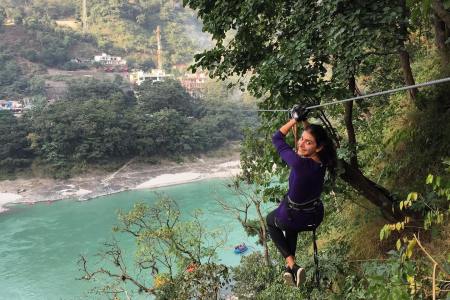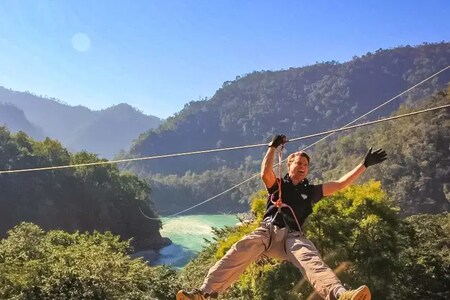 Flying Fox in Rishikesh
Experience the exhilarating thrill of Flying Fox in Rishikesh, an adventure that combines heart-pounding excitement with breathtaking views. Strap into a harness and glide along steel cables, suspended above the picturesque landscapes. With various platforms and distances, this activity offers a unique vantage point of Rishikesh's natural beauty while delivering an unforgettable rush of adrenaline.
Flying Fox Activity Details
Minimum Age: 12 Years
Minimum Weight: 40 Kgs
Maximum Weight: 130 Kgs
Activity Timings: Between 09:30 AM to 04:00 PM
Activity duration: 45 - 60 minutes
Price Per Person: Rs 3500 (in Solo) & Rs 2000 (in Tandem)
The fox is normally done by 3 people in Tandem. Can also be done solo, at an extra cost.
Book Now
You are harnessed to the wire and released by gravity; Roll down the wire to up to 7 mtrs above the river level and then fly back up, finally returning & settling down at the lowest point. Accelerate up to speeds of 160 Kmph. Feel the air gushing past. You are pulled back to the launch platform by a retrieval mechanism.
Safety Standards at Flying Fox in Rishikesh:
Safety is the top priority during the Flying Fox adventure in Rishikesh. The operator adheres to stringent measures to ensure your well-being throughout the experience. Trained instructors conduct thorough safety briefings before the activity, explaining proper equipment usage and techniques. Jump Platforms boast New Zealand-designed excellence, crafted by expert Jump Masters with extensive experience. Aligning with Australian & New Zealand Standards Authority Guidelines, these norms have shaped the new Indian Standards for Flying Fox operations. Safety is paramount, overseen by ex-Army personnel, and the operator's staff is Red Cross-certified in First Aid, ensuring a secure adventure experience.
Key Safety Points:
Experienced Instructors
Comprehensive Safety Briefing
Secure Harnessing and Cable Attachment
Mandatory Helmets and Safety Gear
Regular Equipment Checks and Maintenance
Adherence to Industry Safety Standards
Options for Stay in Rishikesh
Send Query for Booking
How to Book Flying Fox in Rishikesh?
Booking a flying fox activity with Rishikesh Camp is easy. You can WhatsApp us and choose the date and time that suits you best. Alternatively, you can also contact our customer support team via phone call, and they will assist you with the booking process.
Simply call or WhatsApp us @ 8393928065 provide the details - total no of people, date of travel, and Time Slot.
To reserve the slots for your dates you have to pay the booking amount.
After completing the payment, you'll receive a booking confirmation message in your WhatsApp or email address.
The booking amount for this activity will be 100% of the total package cost. (Which you'll get in quotation message) (Advance amount may higher on weekends or holidays)
Please Note: We are not the operator of Flying Fox in Rishikesh, we're just a booking partner who manages bookings. You can ask for activity operator details from the team. If required.
Also, Guest should know, that flying fox is a risky adventure sport and there are risks involved in that. And being just a booking partner we don't have any controls in on-ground operations. Therefore we are not liable for any mishappening during the activity.
Hear The Experiences of Our Delighted Customers!
The Flying Fox experience was simply incredible. Soaring above Rishikesh's landscapes was exhilarating, and the views were breathtaking. The safety measures put me at ease, and the expert instructors made the whole adventure unforgettable. A must-try for anyone seeking a unique and adrenaline-pumping activity
Mrs. Sneha From : Delhi ⭐⭐⭐⭐⭐
Flying Fox in Rishikesh was the highlight of my trip. The rush of soaring through the air was electrifying, and the well-maintained equipment and safety protocols impressed me. The staff's professionalism and the stunning views made it an unforgettable adventure.
Mr. Ravi From : UK ⭐⭐⭐⭐⭐
I was apprehensive at first, but the Flying Fox experience exceeded my expectations. The safety measures were top-notch, and the instructors were reassuring. The feeling of flying above the Ganges was indescribable, offering a unique perspective of Rishikesh's beauty. A safe, thrilling, and spectacular adventure for all adrenaline junkies
Mr. Yogesh From : Uttarakhand ⭐⭐⭐⭐⭐