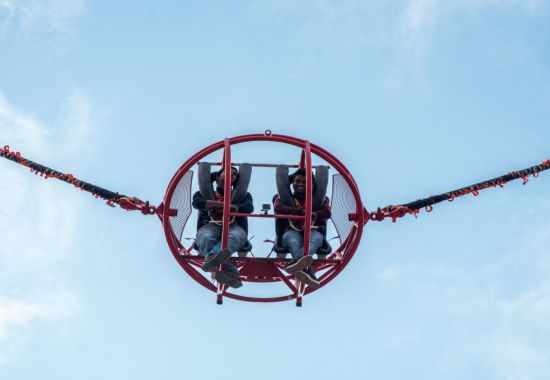 Reverse Bungee Booking in Rishikesh
Embrace a thrilling adventure with Reverse Bungee in Rishikesh. With the help of a launching mechanism, you will be pushed upwards 180 feet in 3 seconds at the speed of 200 km/hr, while the enclosure rotates clockwise and anticlockwise, giving your head a full spin. Feel the rush as you're propelled into the air, suspended by elastic cords, for an exhilarating and unforgettable ride amidst stunning landscapes.
Rs 1500/person Rating: 4.8⭐
Reverse Bungee Highlights
Timings: 09:00 AM to 06:00 PM
Season: Throughout the year.
Price: Rs 1500 Per Person
Activity Duration: 15 minutes
Minimum Age Required: 12 Years
Safety: Proper safety equipment is provided.
Book Now
👇 View All 20+ Adventure Sports in Rishikesh View All Activities
About Reverse Bungee Rishikesh
Arrive during operational hours at the activity location.
Experience the unimaginable: catapulted 196 feet into the air in seconds.
Reach speeds of up to 180 km/hr for an adrenaline-packed rush.
Bounce up and down for 15 thrilling minutes, enjoying panoramic Rishikesh views.
Embrace the mind-blowing sensation securely harnessed for utmost safety.
Get ready for an unforgettable adventure that redefines gravity's limits.
Options for Stay in Rishikesh
Send Query for Booking
How to Book Reverse Bungee in Rishikesh?
Booking a reverse bungee activity with Rishikesh Camp is easy. You can WhatsApp us and choose the date and time that suits you best. Alternatively, you can also contact our customer support team via phone call, and they will assist you with the booking process.
Simply call or WhatsApp us @ 8393928065 provide the details - total no of people, date of travel, and Time Slot.
To reserve the slots for your dates you have to pay the booking amount.
After completing the payment, you'll receive a booking confirmation message in your WhatsApp or email address.
The booking amount for this activity will be 100% of the total package cost. (Which you'll get in quotation message) (Advance amount may higher on weekends or holidays)