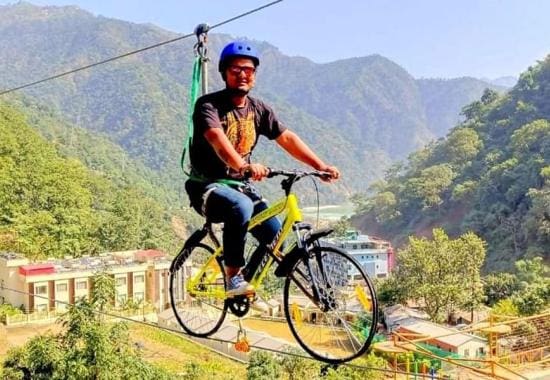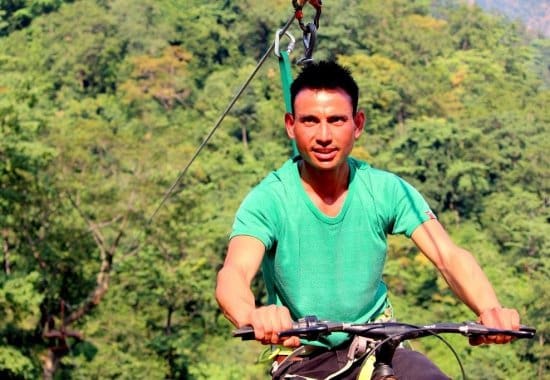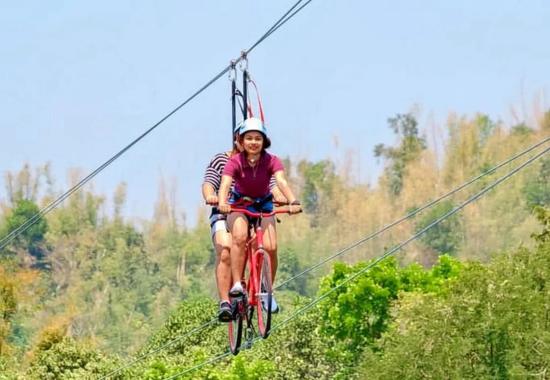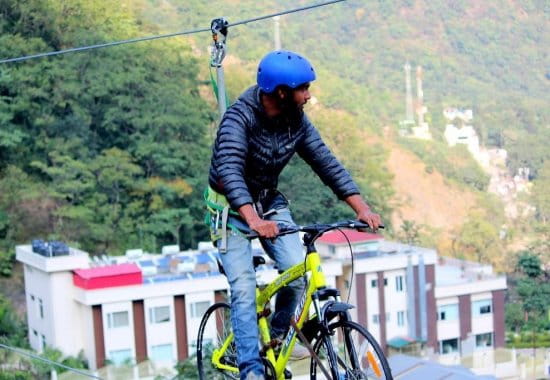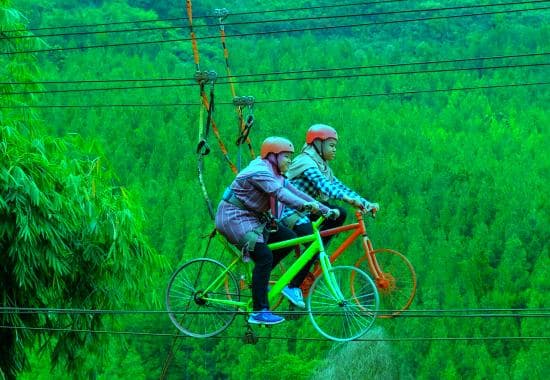 Sky Cycle Booking in Rishikesh
Feel the breeze against your face as you cycle for 480 meters back and forth, 54 feet above the ground. This is the highest and longest sky cycling in Rishikesh. This 15-minute activity offers a cycle ride up in the sky while you are harnessed and suspended by a durable set-up.
Rs 1000/person Rating: 4.5⭐
Sky Cycle Highlights
Timings: 09:00 AM to 04:00 PM
Height: 54 meters
Total Distance: 480 meters (include back & forth)
Season: Throughout the year.
Price Range: Rs 1000
Package Variants: Kids, and Adult
Activity Duration: 15 minutes
Minimum Age Required: 14 Years
Safety: Proper safety equipment is provided.
Book Now
👇 View All 20+ Adventure Sports in Rishikesh View All Activities
Safety Standards at Sky Cycling in Rishikesh
Safety is our utmost concern when it comes to the Sky Cycling adventure in Rishikesh. We have implemented comprehensive safety protocols to ensure your well-being throughout the experience. Our certified instructors provide detailed safety briefings before the activity, explaining proper equipment usage and riding techniques. You'll be provided with top-quality safety gear, including helmets and harnesses, to ensure a secure ride. Our maintenance team regularly inspects all equipment to guarantee optimal functionality. Trust in our commitment to your safety as you embark on this thrilling Sky Cycling journey.
Key Safety Measures:
Certified Instructors
Thorough Safety Briefing
Quality Safety Gear (Helmets, Harnesses)
Regular Equipment Inspections
Stringent Maintenance Procedures
Options for Stay in Rishikesh
Send Query for Booking
How to Book Sky Cycle in Rishikesh?
Booking a Sky Cycle activity with Rishikesh Camp is easy. You can WhatsApp us and choose the date and time that suits you best. Alternatively, you can also contact our customer support team via phone call, and they will assist you with the booking process.
Simply call or WhatsApp us @ 8393928065 provide the details - total no of people, date of travel, and Time Slot.
To reserve the slots for your dates you have to pay the booking amount.
After completing the payment, you'll receive a booking confirmation message in your WhatsApp or email address.
The booking amount for this activity will be 100% of the total package cost. (Which you'll get in quotation message) (Advance amount may higher on weekends or holidays)